Our
Photo Gallery
Coombe Barn Holiday cottages are set on a sheep farm in Somerset
The best of both worlds, sleep in the country, visit the city of Bath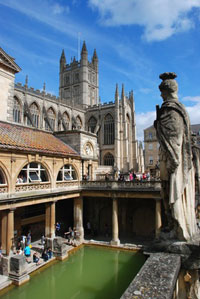 We all enjoy a better night's sleep in the country, the tranquillity and fresh air work their magic.
The city of Bath is a mere ten minute drive away from Coombe Barn Holiday Cottages. Choose your favourite cottage and book a week or short break for a wonderful self-catering holiday in Somerset.
Bath is crammed with historic buildings through the ages dating back to the Roman Baths and Pump Room. People come from far and wide to admire the lines of the Royal crescent. Take an open-topped tourist bus for an overview of the city and to get your bearings. Bath offers visitors a good time in its museums, guided walks, eateries and shopping centre.